My guest today of The Novel Road has an energy and zest for life about her that is seldom found. You'll find her picture in the dictionary under "Optimism, see extreme".
Doing my research for her questions, I'm not really sure when I started smiling, but I did. How she managed to sit still long enough to write "Restoring Harmony"… I wonder if her husband heard her running around her "writing room" at odd hours of the day or night.
The subject of her book did shock me a bit. A border line dystopian tale of a young girl's travels in an unraveled world. Yet her energy shown through, moving her story at alternately brisk and well thought pace. She showed skill. Skill that will bring more Joelle Anthony books our way for years to come.
Now a bit about Joelle from her website…
See! She can't
sit still
"Joëlle started out life as a storyteller, then a reader, eventually a writer, and by her teen years, the sirens of the stage were calling her name so she stopped reading fiction and began to read plays plays.
With a BA in theatre, and absolutely no other marketable skills (not even waitressing), she got some headshots made and called herself an actor. Believe it or not, some people fell for it.
You can see her in such major roles as "Floozie #2" in Men of Honor, starring Robert DeNiro, Cuba Gooding Jr., and Charlize Theron. She also played the all important "girl in elevator" in an unnamed horror movie (okay, the name's not really a secret, she just can't remember it) with Timothy Hutton and Oliver Platt. And there was Keanu Reeves' big hit, Permanent Record, where she was "girl at party" AND "girl in school play". If you've missed all those, you might catch her as "bridesmaid" in

What the Bleep Do We Know?
Aside from her stellar film career, she did have a very good run as Marina Galino in the Hey City Theater production of Tony n' Tina's Wedding, where she got to improvise to her heart's content, dance like a madwoman every night in a hot pink dress, AND get paid for it!
As fulfilling as those roles were, she decided to make a career change. In an attempt to avoid getting a real job, Joëlle got a writing room and had some business cards printed up that said "writer" on them. Believe it or not, some people fell for that too (after about ten years of really hard work), and now she is one."
I am pleased to welcome author Joelle Anthony to The Novel Road…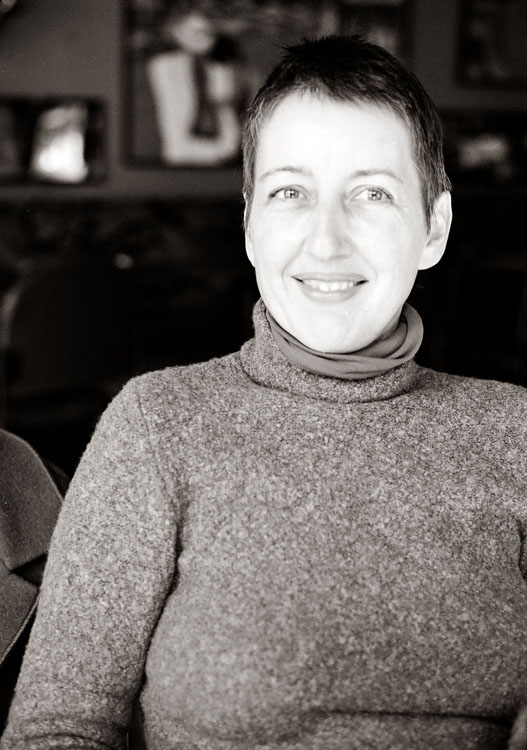 Me: If I came up with a single word to describe your life to date, it would be: Ebullient. You've taken paths and enjoyed life. How did someone with your zest for life choose a post-apocalyptic tale for her first novel?
Joelle: I never set out to write an apocalyptic or dystopian novel, and the fact that the book caught the front end of the dystopian wave was sheer luck. I never read them, and didn't even really know what they were. I have to say that my husband and I find Molly's world, at least the bit on the island, more interesting than scary, and that's where the setting came from. People are predicting a future like in RESTORING HARMONY, and while I'm not in any hurry to get there, I do think it could change some things for the better, so overall, it's not too frightening to me. At first I was surprised how some people reacted to the book's setting – feeling afraid of it, but when I step back and imagine someone coming across those ideas for the first time, I can see where it might be a bit unnerving. My intention from the beginning was simply to write a family story set in interesting times.
Me: Molly McClure. Talk about how she developed and your research for "Restoring Harmony".
Joelle: Personality-wise, Molly came to me almost fully formed. I don't think she's changed a lot from the very first (very bad!) drafts. However, she did not play the fiddle until many, many drafts into it. Music is a huge part of my life because my husband, and many of our friends are musicians, and at some point it occurred to me that Molly played an instrument. The fiddle was the obvious choice because it's light enough to carry with her. Also, I played violin as a child, so even though I'm not very musical myself, I at least knew what it felt like to play it.
I also have had many discussions with my husband about the value of live performance and how back before recorded music, the fiddler was one of the most important people in the community. In one of his songs (Keep the Faith), he has a line, "When the fiddler leaves, the dancing stops." Essentially, if you had a fiddler, you had a dance, but if she left, it was all over. I thought that adding the element of live music to Molly's world was a natural thing because if the ease of recorded music ever diminishes, live performance will become more valued again.

Me: Talk about life experience. How important it is to an author?
Joelle: It can go either way. There are some excellent young authors out there…writers in their teens or early twenties. They are able to write books that really speak to teens. I do think that the older you get, and the more life experience you have, the more depth your books have. Or maybe not depth, but intensity and thoughtfulness. But you can get bogged down in all that you know and let your bad (or good) experiences get in the way of your writing. Wow, I sound like a politician with that answer!
Me: Give me a two sentence "Hook" for "Restoring Harmony".
Joelle: How about one? I've got that down. It's set thirty years in the future after an economic collapse, and it's about a girl who leaves her idyllic island farm in B.C. to go down to Oregon and rescue her grandparents.
Joelle: Before the book sold, I had help from my critique group and agent, and I basically stopped when I thought it was as good as I could get it, and my agent agreed. The book went through massive changes in edits though. My editor had me cut 75 pages and after I'd done that, she had me cut another 75. Some of those pages were replaced, but essentially, the book was a lot shorter and tighter. Almost everything that was cut was repetition on my part. Through editing, I learned to trust that readers would understand what I was saying without hitting them over the head repeatedly with the information.
Voice has always been my strong point, and plotting was not so bad, but pacing and overall structure were definitely things my editor had to help me with during the edits. Due to some deadline changes at Putnam, the last couple of rounds of edits were frantic and quick, so basically I knew I was done when the deadline came and I had no choice but to say, "Okay…that's it. We did it." I'm happy with it for a first novel though, so it was all good.
Me: Tell us about your agent, and why the match is perfect?
Joelle: Michael and I are a lot alike. We both know milk chocolate is better than dark, caramel is the best kind of treat, and he's always right. Actually, there was this one time he wasn't right, but about 99.9 percent of the time, at least in regards to anything publishing related he's spot on. We get along great. We both work too hard, but I'm cutting way back and relaxing more. I doubt he is, but he did teach me the value of taking time off. During the week, he answers emails with lightning speed, but he takes the weekends off. One day I realized working six or seven days a week wasn't doing anything good for me and if my busy agent could have a life on the weekends, I certainly could. My life's a lot better now because of that.
John Rowe Townsend
Me: Lunch with you and any Author you choose, from throughout literary history or today, and why.
Joelle: I'd have to choose British young adult author, and my mentor, John Rowe Townsend. I had lunch with him and his wife, Jill Paton Walsh, in Cambridge a few years ago, after a 15 year correspondence (which started out as a fan letter from me to him) and it was so great. He's in his eighties, and Cambridge is a long way away, but I hope we get to do it again sometime. It was the most verbally exciting lunch I'd ever had. He and Jill banter by throwing quotes from Shakespeare at each other. And then, if one of them gets it wrong, the other runs to look it up. After lunch, they took me to the university and gave me a tour. Between the two of them, they translated all the Latin on the statues and plaques for me. In the evenings, they relax by playing Scrabble in Greek!

Joelle: Oh, I'll have to leave this to the English classes. As far as I'm concerned, sometimes a fiddle is just a fiddle! I suppose if you pressed me, I could say it's a metaphor for home and the things she loves.
Me: You wake up one morning and decide to write… a Historical non-fiction book. Give me the subject and why.
Joelle: Hmmm…historical, nonfiction? Wow. That would be some morning! I'm pretty interested in England. It would probably have to be something along those lines. Like the history of a particular castle or how to build stone walls…or possibly cooking, although being a vegetarian, I'm not sure historical English food is something I'd want to face.
Me: Talk about your editor and your experience in this crucial part of publishing. Did you mesh right away, or did it take time to get on the same page?
Joelle: Stacey is a most excellent match for me. That's another way that Michael is a great agent. He doesn't just look for someone to buy a manuscript, he tries to match his clients with editors who they can work with well. I think Stacey actually took a chance on me with RH. She knew how much work it would be to actually shape it into a novel and she took it on anyway. I think editors used to be able to do that, but now they're so busy, they generally don't have that kind of luxury anymore, so I know how lucky I really was to have her champion RH.
Stacey rarely, if ever, tells me what to do. Her editing style consist mostly of identifying issues (plot, pacing, character), and asking questions. She never says "this is not clear" because how would that help me? She instead makes notes like, "Why would she do this?" and that in turn makes me think, "Why indeed?" And then I either make it more clear, or if I don't know, then I realize that and figure it out, or I do my favourite thing when she makes that note and I simply cut it! Honestly, sometimes when she notes things that don't make sense, the easiest, and most logical fix is just to cut it. I do that a lot.
We're in the process of finishing up edits on my next young adult novel, THE RIGHT & THE REAL, and it's been a joy to work with her. Because of what she taught me on RESTORING HARMONY, I was able to produce a much cleaner, more cohesive first draft of R&R, and that allowed us to really work on all the deeper elements of it instead of the structure, which is where a lot of our efforts went for RH. I'm very excited about this book and I really hope to work with Stacey on my third YA too. She's very good at what she does.
Thanks for having me! And thanks for the great questions.
***************************************
It has been a joy having this very cool lady on The Novel Road. Now I want a ride in her car!
Victor and Joelle Anthony